Ten years ago, after undergoing an operation on his knee, Peter Moralee was told by his surgeon that he would not be able to run long distances again.
But due to his determination – and his dedication to supporting dementia research – he is now running further than ever before, taking on marathons and ultras for Alzheimer's Research UK.
He said: "I used to run a bit and did a couple of half marathons, but then in 2011 I had microfracture surgery on my knee due to wear and tear from landscaping work. The next few years I suffered from depression due to the injury, loss of my business and a friend's suicide.
"In 2016 I realised I needed to get fit so I started running again. I ran the Great North Run in 2017 and from there I've gone on to do many long-distance road and trail races. I've definitely proven the surgeon wrong! Running has helped so much with both my physical and mental health." Peter's next big challenge will be running HEINEKEN Endure 24 in Leeds in July. He previously ran the 24-hour event as part of a team of six in 2019 and a pair last year, but this year is attempting it solo. It's going to be a great challenge to see how many miles I can do in 24 hours."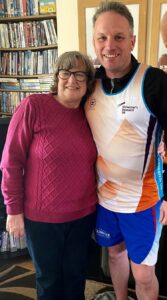 "I was excited when I heard Alzheimer's Research UK are the charity partner for the race this year. I'm already planning on decorating my tent with Alzheimer's Research UK banners and balloons!"
"The event is well organised, lots of fun and it gives people different running options so there's a challenge that suits everyone."
Peter, who will also be running the London Marathon in October, supports Alzheimer's Research UK in honour of his mother-in-law Elma who was diagnosed with Alzheimer's disease in 2019.
He said: "She was a lively, sociable, active woman, but this awful disease has changed her so much.
"Her family are very close and her diagnosis and decline has had a devastating effect on them.
"It's been tough for her husband who should be relaxing in his retirement, not being a full-time carer.
"Due to the pandemic her daughters have had to support from a distance to help protect their parents' health. Mentally it has been hard for them to see her decline and not be able to simply give her a hug due to the restrictions.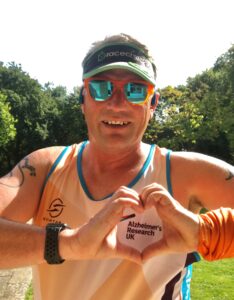 "Researching into Alzheimer's, we were impressed with Alzheimer's Research UK's work. We are aware that treatments are limited for my mother-in-law but we want to help other families in the future so they don't have to go through what we have."
Alzheimer's Research UK is proud to be the title charity partner for 2022 HEINEKEN Endure 24 events at Reading (June 18-19) and Leeds (July 2-3). For more information and to sign up for a charity entry for as little as £16, head to www.endure24.co.uk/charity
If you'd like to support Peter and his fundraising journey, you can find his fundraising page here.