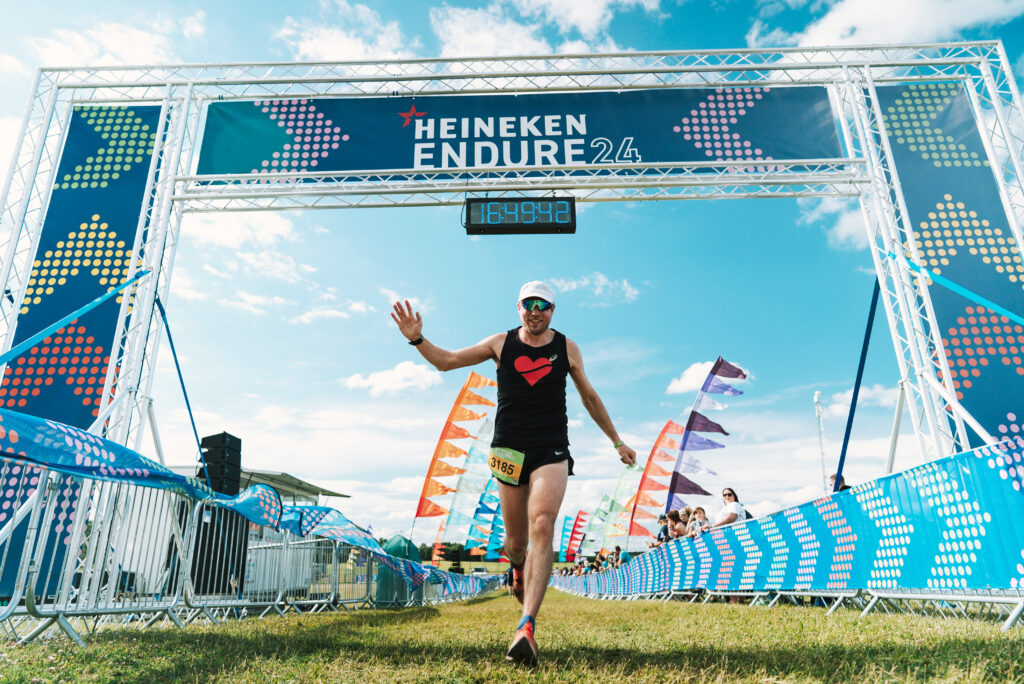 This year saw Joe Baker become the first runner to complete 30 solo laps at Endure24 winning the Leeds event and smashing the previous course record. Joe also won the Reading event last year in 28 laps making him the first runner to win both the northern and southern events. We caught up with Joe after giving him a few days to recover to find out a little more about the man behind such epic and relentless running.
Give us a little bit of an overview of your running background.
Well, it started in June 2016 with the odd couple of miles once or twice a week. Prior to this I'd been a rugby player but a dislocated ankle and broken leg in March 2014 led to three operations and a significant period of being inactive.
I'm one of these mad keen stato types and I quickly found that running gave me so many figures to look at. Back then I had a Fitbit and would run to be able to pour over the stats in strava after a run. I started to do parkrun and as fitness increased my times dropped, friends from work encouraged me to join a local club Stadium Runners.
Things escalated pretty quickly and by the end of 2016 I already had my sights on my first marathon, the Manchester Marathon in April 2017. My first taste of Endure was June 2018, Leeds. I set out with the 100 mile goal. Whilst I managed to complete this in 23h44m I only made it to the end with the support and strength of my friend and club mate.
I learnt a lot in that 24 hours which has helped me become the runner I am today. People ask about mental strength I think you must have experience in the 'dark hole' to be able to deal with it better next time. I have spent the last few years regularly running marathons and ultras sometimes racing them and sometimes using them as training for other events. Endure Leeds this year was my 71st Ultra/Marathon race in a little over 5 years and my 5th Endure event.
Who are your inspirations?
There are lots of people who inspire me. I can probably split them to three groups of people.
There are the amazing professionals like Eliud Kipchoge. That guy is an awe inspiring human, never mind runner. His message 'No Human is Limited' is one we should all take on board. His achievements have been phenomenal and push the bounds of what is possible.
Then there are the relatable runners to my age and ability, the local runners who showed it was possible to improve a 19minute 5K down to 16minutes with focused effort, push half marathon times below 75, run sub 2:30 marathons. I'm really fortunate to be able to train with talent runners from a range of clubs.
The third group comes from the running community. I've met so many people and everyone has a story. Even at Endure I saw people achieving goals they didn't believe possible.
One of the things I like so much about Endure is you can have one person whose challenge of getting round one lap for their team, which means so much to them. In the same race someone trying for marathon distance, 100k or the yellow 100mile tee. If you spend 5 minutes talking to your fellow runners, you quickly discover many inspirational stories.
Tell us about your mindset and obvious resilience?
A common question I get asked is 'what do you think about whilst running for a long time?'. Well, beyond working through race scenarios, lap times in my head for speeding up or slowing down I often don't remember specifically. I practice positive self-talk, repeating phrases starting with; "I can", "I will".
The trick is to catch negative thoughts before they spiral and flood that conversation in your head with positive possibilities. Drift off/zone out and think about unrelated stuff. Consider what youve been eating and drinking.
What was your favourite part of Endure24 Leeds?
It's hard to choose a favourite part. Support out on the course from runners and the marshals is great. Especially when the marshals realise youre a solo and you are seeing them lap after lap.
Course wise, I like the lights at night, running from Festival field to the finish that last couple of km which is more downhill, and I like the time between 2am-6am. It's cooler and you get the sunrise views.
For anyone who wants to join Joe on his running journey, you can find him on Instagram @joeobaker.